HOWDY FRIENDS, LOVERS, AND SUPER RADICALE COMMUNITY KIDS.
THIS IS A GREAT WEEK FOR SHOWS IN THE SAN DIEGO AREA.
THESE WILL BE THE LAST 2 SHOWS FOR QUIT SOME TIME DUE TO THE RECENT ADDITION OF (ME) BUSHWALLA TO THE JASON MRAZ "GRATTITUDE CAFÉ" TOUR!
HERE IS A LIL INFO ON OUR SHOWS FOR THIS WEEK.
JITTERS COFFEE PUB "WHAT THE FLOOD?" FUND RAISER.
MY FAVORITE PLACE IN THE WORLD JITTERS COFFEE WAS STRUCK 2 YEARS IN A ROW WITH A TERRIBLE FLOOD DUE TO WATER PIPES BURSTING UNDER THE SHOP.
THE CITY WAS LESS THEN ENTHUSIASTIC TO HELP, SO WE TOOK IT UPON OURSELVES TO RAISE SOME EXTRA FLOW TO HELP OUR FRIENDS AT JITTERS BY IMPLEMENTING A RADICLE SHOW…. HERES WHATS GOING DOWN
WHEN: THURSDAY JULY 16TH (THIS WEEK)
7PM-10PM
WERE: 510 N. COAST HWY OCEANSIDE, CA (JUST SOUTH OF THE 76)
WHO: THIS IS GRET LINE UP OF FRIENDS
MUSIC
TWO SPOT GOBI
FROM BRIGHTON, UK "
WWW.MYSPACE.COM/TWOSPOTGOBI
DAWN MITSCHELE
FROM SD/LA
WWW.MYSPACE.COM/DAWNMITSCHELE
MICHAEL AND NANCY NADDER
FROM SD
BUSHWALLA
FROM MY MOTHER *** BUSHWALLA WILL BE AUCTIONING OFF A SHOW (in the so-cal area)
AUCTION
AUCTIONS WILL INCLUDE LIVE PERFORMANCES, DINNERS,TRAINING PACKAGES, AND MORE
ART
PAINTINGS BY BRANDON LOMAX
GLASS BY CLAYTON BALLEW
BAKE SALE
THE SUPER SKILLS OF OWNER VALLEY GILLEY
RAFFLE
WE WILL BE RAFFLELING EVERYTHING FROM MUSIC TO SIGNED MERCHANDISE BY JASON MRAZ, BUSHWALLA, AND DAWN MITSCHELE. GIFT CERTIFICATES
HULA HOOPING
I LOVE IT!
ALSO…..
MASSAGE TABLE, THRIFT SALE, PSYCIC READINGS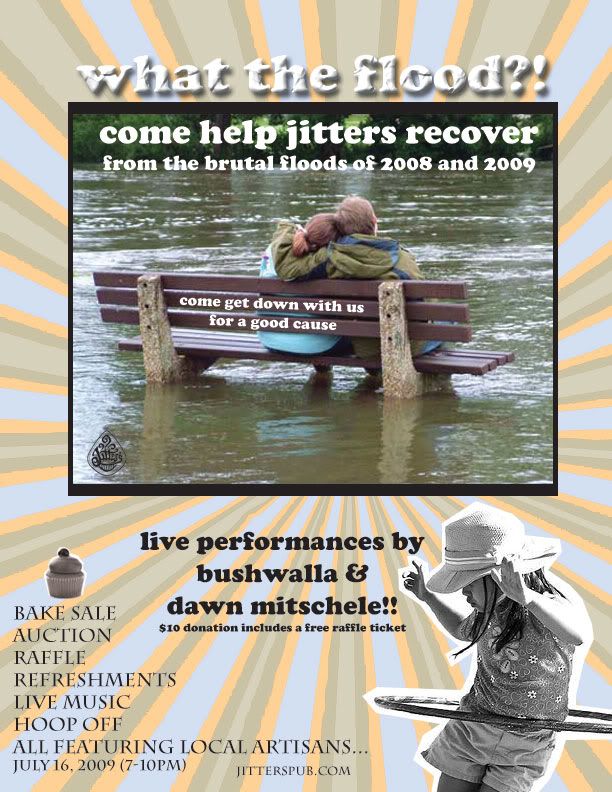 also.... FRIDAY THE 17TH AT LESTAT'S WEST IN SD
LAST SHOW IN SD!!!!!